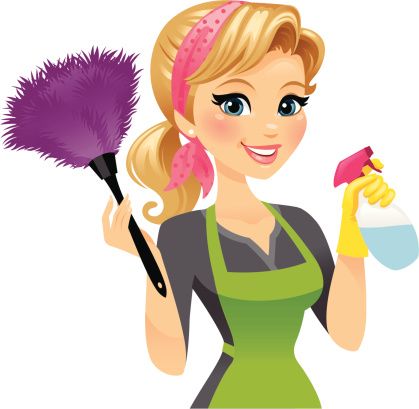 We made it through winter and now can welcome spring by tackling a few spring cleaning tasks around the house. Experts say that the key to managing the seemingly overwhelming list of deep cleaning chores is to create a realistic schedule for your family and tackle items one at a time. Below are a few ideas and areas to focus on as you work on your spring cleaning to do list.
Kitchen- Deep cleaning your cabinets and countertops to remove built up grime and disinfect. Take the time to clean your stainless steel to remove finger prints and make them shine like new. Clean all your kitchen appliances including the stove, refrigerator (don't forget the coils & underneath the fridge) and your dishwasher.
Dust ceiling fans and light fixtures throughout your home.
Floors- Deep clean carpets, wet clean hardwood floors, and steam clean your tile & grout to get everything back in top shape. Take time to wash or deep clean rugs throughout your home as well.
Windows- Wash screens and windows, clean window treatments and clean window sills and window tracts so you can enjoy all the beauty spring has to offer outside.
Bedding- Spring is the time to wash your pillows, blankets & comforters and rotate your mattress.
Washing Machine- Once you washed everything in the house, give your washing machine some love by cleaning it as well to remove built up dirt and grime.
Closets- organize your closets and donate unused items for the last season to a local thrift store.
Change batteries in smoke and carbon monoxide detectors
Disinfect door knobs, cabinet handles & light switches to erase all the winter germs
Pressure wash patio furniture & decks to get them ready for summer grilling and parties outside.
Clean your grill and remove any built up grease and food. You can also replace grill grates for a fresh new start.
After you've tackled that spring cleaning list, enjoy all that this new season has to offer! And if you are ready to sell your home once it's in tip top shape, contact our team at Outer Banks Realty Solutions at 252-261-9003 to help get your home listed & sold this season.